Keto Diet? Do THIS to avoid Keto Flu Symptoms.
Here's Everything You Need To Know About The Keto Flu (Plus 4 Tips To Avoid And Overcome It).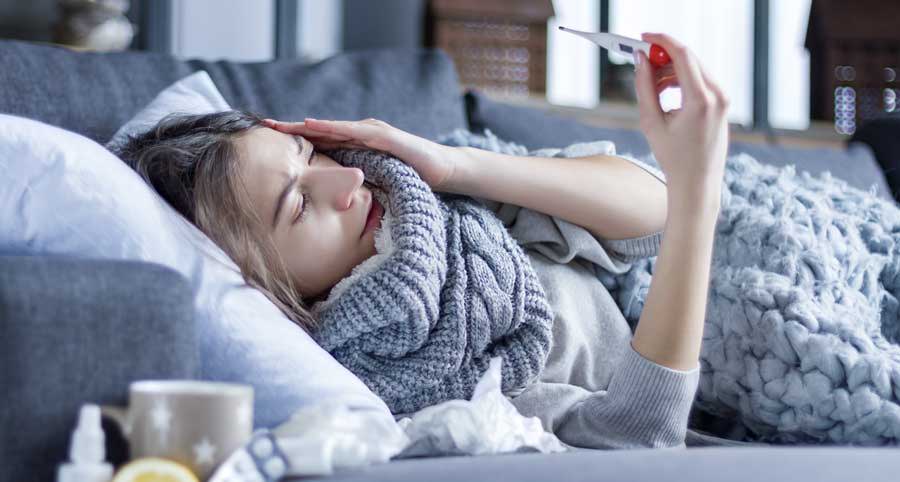 If you chose one or more of the boxes below, you might be showing signs and symptoms of the Keto Flu.
Here's everything you need to know about the keto flu.
The keto flu is a collection of symptoms similar to the flu, which show in the first 2-7 days after starting the keto diet.
These flu-like symptoms are "side effects" that pop up when you have little to no carbohydrates in your body.
Carbohydrates are generally limited to less than 50 grams per day in a ketogenic diet. (1)
You see, traditional diets are high in carbs, which is the opposite of the ketogenic diet. So when you transition to the keto diet, you slash your carbohydrates intake by half, and in some cases, more than half.
This lifestyle change can be challenging for your body. Your body might react to it by having feelings similar to withdrawal, just like when you stop drinking coffee. (2)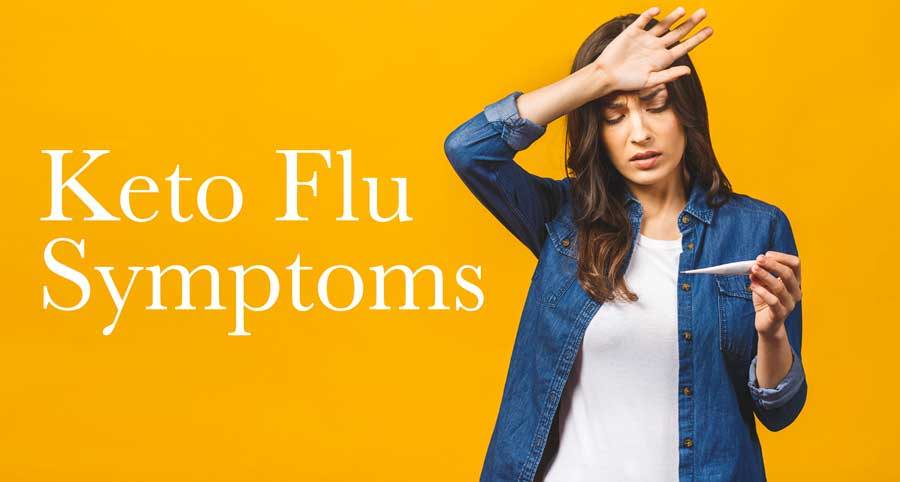 What Are The Symptoms of Keto Flu?
There's a laundry list of symptoms that can occur when you make a sudden or major change to your diet. So give your body some time to adapt to your new lifestyle change.
This changeover period may be more difficult for some people.
The signs and symptoms can vary from person to person. Some experience mild symptoms and others can experience more severe ones.
Here's the good news: These signs and symptoms may ease off when the body enters a state of ketosis.
Again, think of these symptoms as a side effect that occurs within the first few days of cutting back on carbs. Here's a list of potential signs and symptoms of the keto flu:
Nausea
Vomiting
Constipation
Diarrhea
Headache
Irritability
Weakness
Muscle cramps
Dizziness
Poor concentration
Stomach pain
Muscle soreness
Difficulty sleeping
Sugar cravings
How Long Does The Keto Flu Last?
The length of the symptoms varies, but they generally last a week or less. Some individuals may experience them for longer than a week.
While these adverse effects might cause some dieters to give up, there are strategies for preventing them.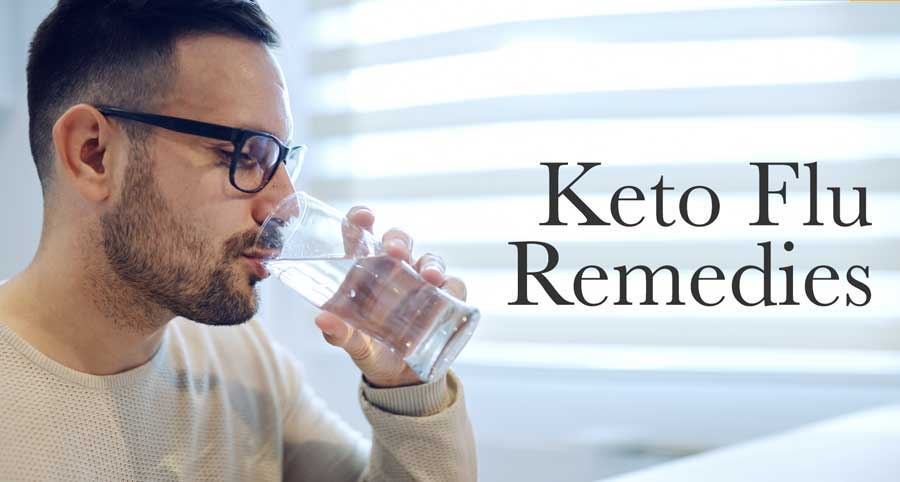 Check Out These Remedies To Avoid And Overcome The Keto Flu
Drink enough water. It is important for your health, and it helps to reduce symptoms.
The keto diet can cause you to lose lots of water, which means you need to drink more fluids so that your body does not get dehydrated. (3)
This is because glycogen, the body's stored form of carbohydrates, binds to water. When carb consumption is decreased, glycogen levels drop and water is "expelled" from the body. (4)
2. Replenish Your Electrolytes
Keto-flu symptoms are often related to an electrolyte imbalance, so getting enough electrolytes can help reduce your symptoms.
If you don't get enough sleep, your stress level will go up. If you have high levels of stress, it can make the keto-flu worse.
If you are having a difficult time falling asleep, try one of the following tips:
Reduce caffeine consumption: Caffeine is a stimulant that can harm sleep health. Only consume caffeinated beverages in the morning, as caffeine can affect your sleep at night. (6)
Turn the lights off in your bedroom: This will help you sleep better and feel more refreshed throughout the day. (7)
Take a bath: A soothing way to wind down and prepare for sleep is to combine Epsom salt or lavender essential oil with your bath. (8)
Get up early: Regularizing your sleep habits and improving sleep quality over time may be aided by getting up at the same time every day. (9)
4. Make Sure You're Consuming Enough Fat (And Carbs)
Transitioning to a very low-carb diet might cause you to want foods that are forbidden on the ketogenic diet, such as cookies, bread, pasta, and bagels.
However, eating enough fat will help with the ketogenic diet, and it will make you feel more satisfied.
If you're having trouble adjusting to the ketogenic diet, you may have to remove carbohydrates gradually instead of entirely.
Cutting carbs down gradually while increasing fat and protein in your diet might help make the transition easier and minimize keto-flu symptoms.
To Help Minimize Keto Flu Symptoms, I Highly Recommend Trying A Hydration Formula Called Everyday Fit™.
Everyday Fit has all the hydration and electrolyte power you need to keep the keto flu at bay.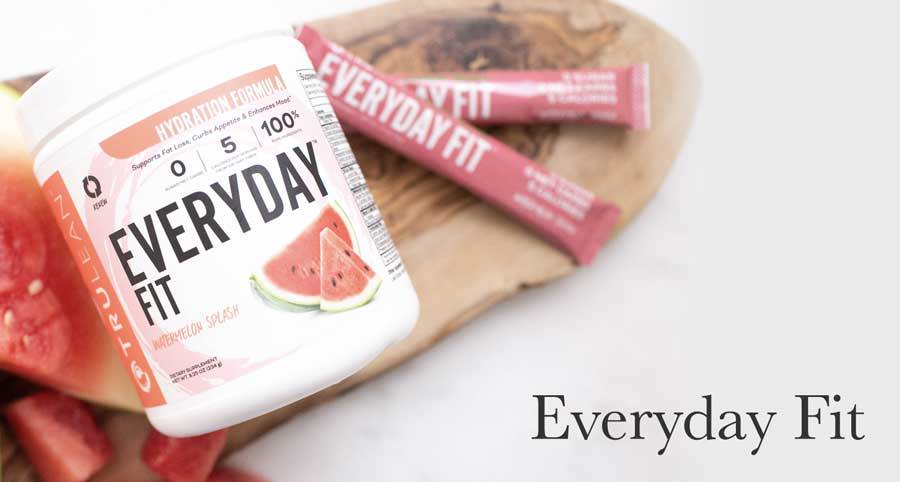 Everyday Fit was designed to help you break up with cravings, give you a figure and glow that belongs on a magazine cover, and elevate your mood... WHILE boosting your hydration and electrolyte levels.
This is the first-ever water enhancer that replenishes nutrients & supports an active lifestyle WITHOUT harmful sugar or stimulants.
It's made of 100% PURE INGREDIENTS. NO GMOs added. NO sugar. NO artificial ingredients, sweaters, additives, or preservatives.
Look At What Others Are Saying About The Everyday Fit
This is a MUST! ⭐⭐⭐⭐⭐
"This is a must! I am always drinking my water now as it is flavorful without the guilt." - Kimberly M., a verified Everyday Fit Customer.
Delicious ⭐⭐⭐⭐⭐
"Sooooo goood!!! I love all the Everyday fit flavors. My husband is picky about things, but he likes the fruit punch. I'm slowly getting him to like healthier options." - Marla S., a verified Everyday Fit Customer.
It works! ⭐⭐⭐⭐⭐
"I love the taste and results of this product. I have never skipped a meal and now at the end of the day, after lots of water, I am honestly not hungry." - Christopher E., a verified Everyday Fit Customer.
Hit your water goal ⭐⭐⭐⭐⭐
"Helps me hit my water goal every single day with the lowest amount of calories." - Ann-Marie K., a verified Everyday Fit Customer.
Great taste! Seems to work so far. ⭐⭐⭐⭐⭐
"Taste is great - reminds me of drinking a Flintstone vitamin! I've only been taking it for 6 days now, but I really do feel like it's curbed my appetite just a bit." - Lexy L., a verified Everyday Fit Customer.
Where Can I Purchase Everyday Fit?
The Everyday Fit from TruLean Nutrition is only available for limited quantities online at our official store
here.
Special Reader's Discount Only Available Today!
All readers who come directly from this page can safely secure a 17% discount on their Everyday Fit order!
Please note: This limited and generous 17% discount is only available if you come through the page you're on right now.
If you leave this page and try to come back before securing your order, then you run the risk of losing this limited discount, and that means you'll have to pay the full price later.
Secure your offer below!
If you've made it this far, here's the nitty-gritty of recognizing the keto flu and how to avoid it.
Despite its name, this is not the same as the flu. You won't get a fever, and the symptoms are rarely enough to keep you from working. If you're feeling really sick, see your doctor; something else may be wrong.
Make sure you drink a lot of water. Dehydration is an issue for some diets.
Eat more often and have plenty of vegetables. Eat foods that are not that bad for you, like vegetables. It is a big change to switch from the American diet, which has many simple carbs, trans fats, and saturated fat.
And most importantly, don't give up on your lifestyle change. For a few days, you may feel tired, but after a week, your energy level will most likely return to normal, and you'll feel much better.
Resources:
1. https://www.ncbi.nlm.nih.gov/pmc/articles/PMC3826507/
2. https://www.ncbi.nlm.nih.gov/books/NBK430790/
3. https://www.ncbi.nlm.nih.gov/pubmed/16436102
4. https://www.ncbi.nlm.nih.gov/pubmed/18828029
5. https://www.ncbi.nlm.nih.gov/pubmed/26899133
6. https://www.ncbi.nlm.nih.gov/pubmed/28472667
7. https://www.ncbi.nlm.nih.gov/pmc/articles/PMC3612440/
8. https://www.ncbi.nlm.nih.gov/pmc/articles/PMC3375033/