Should You Take Fish Oil Or Krill Oil?
Discover which supplement to take during Heart Health Month.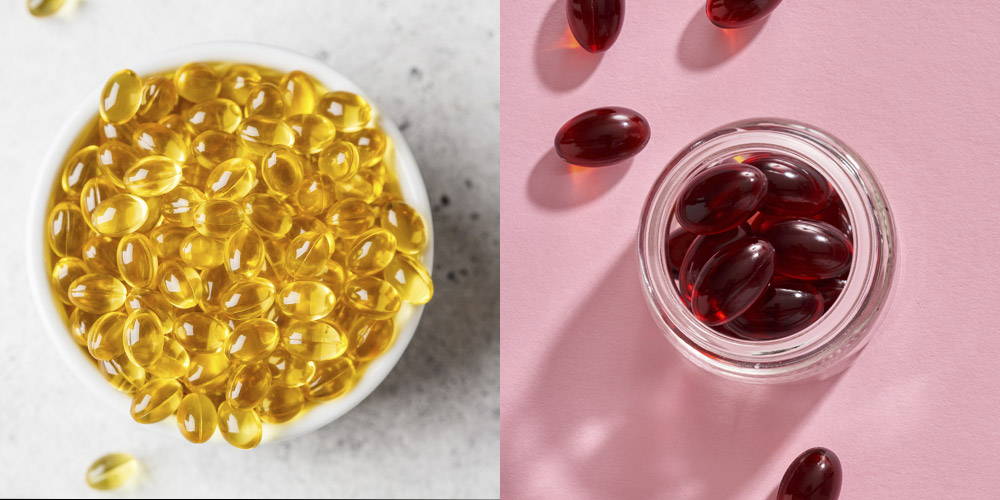 This is one of the most common questions people have when trying to take care of their health - especially their heart - and it makes sense.
Some believe they should only take fish oil. Others think taking krill oil is best.
And believe it or not, some people don't take either because they're overwhelmed with information.
Who could blame them? There's so much information about this, and that, but no clear, cut answers. So today, we're gonna answer the age-old question…
"Should I take fish oil or krill oil?"
The answer is, it depends!
Why? Because not all fish or krill oil are made the same, or created equally (NOT EVEN CLOSE)!
In the next few moments, you'll discover what I mean because I'll reveal to you:
Which one's better for you? (Fish oil vs. Krill oil)
The #1 "red flag" to look out for before purchasing fish or krill oil.
Why should you run for the hills if your fish or krill oil doesn't include this NEW "red" cell protection antioxidant.
Plus, all the facts you need before taking your first fish or krill supplement.
Before you decide between fish oil or krill oil, it's important to know the difference between the two.
Fish oil is an oil that comes from fish. (Who would have thought? lol) This oil is rich in two important omega-3 fatty acids:
Eicosapentaenoic acid (EPA)
Docosahexaenoic acid (DHA)
Omega-3 fatty acids are proven to reduce pain and swelling. And also perform wonders for your body like:
Support heart health
Aid in weight loss
Promote healthy eye function
Fight inflammation
Help your skin appear and feel healthier
This is why so many take fish oil to help their bodies better support them. But there's one bad thing you must lookout for - more on that in a sec.
Like fish oil, krill oil comes from little seat critters called krill. (I know, these names are very original.) And also, like fish oil, it's rich in EPA and DHA.
In other words, it's an excellent source of healthy fats your body needs.
There are multiple studies and publications that links krill oil to:
Boost heart health
Fight inflammation
Reduce arthritis and joint discomfort
Lower "bad" cholesterol levels while increasing "good" cholesterol levels
And much, much more
If you do a few simple google searches, you'll find pages and pages of research ranting and raving about krill oil.
Krill Oil vs Fish Oil: Which One's Better?
Both fish oil and krill oil are excellent sources of Omega-3 fatty acids. Meaning they're both healthy for you.
So it's up to you to decide which is better for you and your needs.
If you want something more affordable, fish oil is the way to go.
Because harvesting and processing krill oil costs a pretty penny. Some websites report it's 10x more expensive than fish oil.
But if you're willing to spend a few extra bucks for potentially better health benefits, krill oil may be your best choice.
Both have their pros and cons, so deciding which one is better for you is up to what you're looking to accomplish.
Here's The #1 "Red Flag" To Look Out For Heart-Healthy Fish Oil Or Krill Oil
If your fish oil or krill oil has flavoring added to it, run for the hills. Because you're being duped into consuming rancid, and oxidized fatty acids.
According to the latest animal research, oxidized fatty acids can cause organ damage and inflammation.
Dr. Ben Albert, a fellow at the University of Auckland, whose research focuses on the health effects of fish oil, comments on how brands hide the taste and smell of rancid and oxidized fish oil...
"Flavoring is added to fish oils to help mask fishy smell and taste..."
Dr. Albert isn't working alone to expose this harsh truth.
Several studies show many of the fish oil and krill oil products on the market use flavoring to mask the rancid flavor and smell. [1]
One of the most common "rancid masks" people use is citrus. It appears that it's the best flavoring to hide the rancidity, fishy taste, and smell.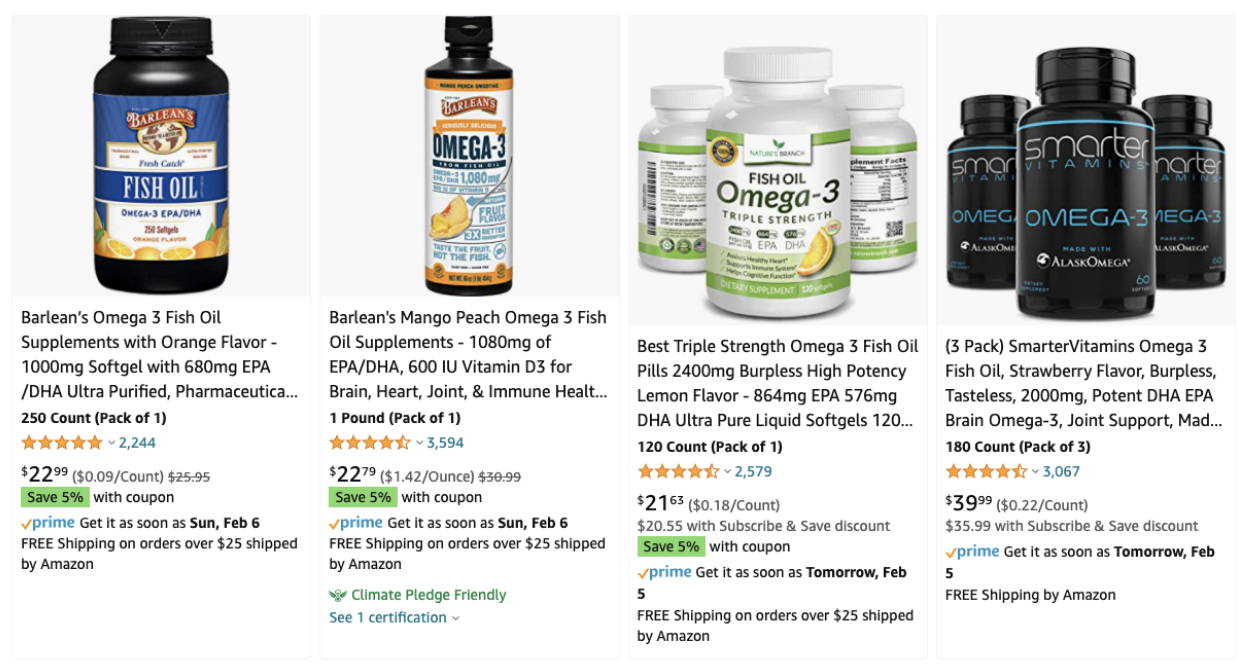 It gets worse.

New independent studies from Canada, New Zealand, Norway, and South Africa have uncovered more "dirty laundry" about fish and krill oil brands.
They discovered the majority of over-the-counter omega-3 supplements exceed acceptable oxidation limits (aka: go bad) before the expiration date on the bottle! [2]
This is like grabbing moldy strawberries and putting them into a smoothie and drinking it. The foul smell and taste may be gone, but you still are drinking moldy strawberries - yuck!
The New Must-Have "Red" Cell Protection Antioxidant That Supercharges Fish And Krill Oil
To have your fish or krill oil go "the extra mile" for you, look for astaxanthin in the ingredient list.
This powerhouse antioxidant has received plenty of press since its discovery. Astaxanthin is…
6,000x stronger than Vitamin C - a 10-year study found that it helps lower the risk of heart disease by 25%. [3]
3,000x stronger than Resveratrol - which can help lower blood pressure according to recent research. [4]
110x stronger than vitamin E - which has been found to help lower the risk of coronary heart disease in middle-aged to older men and women. [5]
So if you're looking for a fish oil or krill oil supplement to "work harder" for you, check the ingredients label to see if it has astaxanthin in it.
This is why we're so excited to introduce you to Trulean Fish Oil - the heart-healthy fish and krill oil blend that has all-natural astaxanthin.
Our breakthrough formula is loaded with 100% clean, pure and fresh fish and krill oil.
It has no added flavoring (remember the #1 red flag other oil supplements have?)
It's 3rd party-tested after it's made in our US-based, FDA-approved manufacturing facilities. This helps ensure we don't send out rancid or oxidized oil.
Each easy-to-swallow capsule is jam-packed with astaxanthin - the super antioxidant.
And most importantly, it has no fishy smell, taste or after burp.
Plus, Trulean Fish Oil is carefully formulated to supercharge your body's health in several exciting ways. Like:
Boost heart health
Fight inflammation
Reducing arthritis and joint discomfort
Aid in weight loss
Promote healthy eye function
Help your skin appear, and feel healthier.
Lower "bad" cholesterol levels while increasing "good" cholesterol levels.
"Love these fish oil tablets. They are gentle on my stomach with no "fishy" after taste. Highly recommend it!" - Donna S.
"Absolutely love this vitamin. It does not flare up my acid reflux after taking it." - Kristy G.
"I like this particular Fish Oil because it doesn't have that fishy taste or burps. I also use it because it is good for your heart health." - Terry C.
Taking Trulean Fish Oil is something you really ought to experience for yourself.
Which is why I have a special gift for you to try Trulean Fish Oil for yourself today.
Special Reader's Free Gift Only Available Today!
If you've read up to this part here, it means you're serious about your health. It also means, you care about your heart.
And since it's the month of healthy hearts and love, we'd love to offer you an 85% off discount and free shipping to try out your first bottle of Trulean Fish Oil.
We want to give you the chance to experience the powerful, healthy heart benefits for yourself.
Right now, we only have a few extra boxes left of Trulean Fish Oil.
These bottles are going fast since we're giving people like you the chance to try an entire 30-day supply of Trulean Fish Oil for a whopping 85% off and FREE SHIPPING before they buy.
Instant 85% off savings! Only $6.99 plus FREE SHIPPING!
Resources:
1. https://labdoor.com/rankings/fish-oil
2. https://www.nature.com/articles/srep07928
3. https://pubmed.ncbi.nlm.nih.gov/15585762/
4. https://pubmed.ncbi.nlm.nih.gov/27144581/
5. https://pubmed.ncbi.nlm.nih.gov/19451807/