I love the way I feel after taking the wellness shot and greens each day. The everyday fit water enhancer has helped me increase my water intake. So many great flavors to choose from. I also love the flavor of the protein powder.
Optimized Performance Bundle
Absolutely love TruLean products. They very high in flavor without being crazy sweet. I like knowing that when I use the products, I'm getting nutritious, great tasting products.
Optimized Performance Bundle
The protein drink tastes amazing and I have noticed a difference since taking it after my work out. I don't feel as tired and drained. The hydration mix is good and keeps me motivated to drink my water. Great products
Optimized Performance Bundle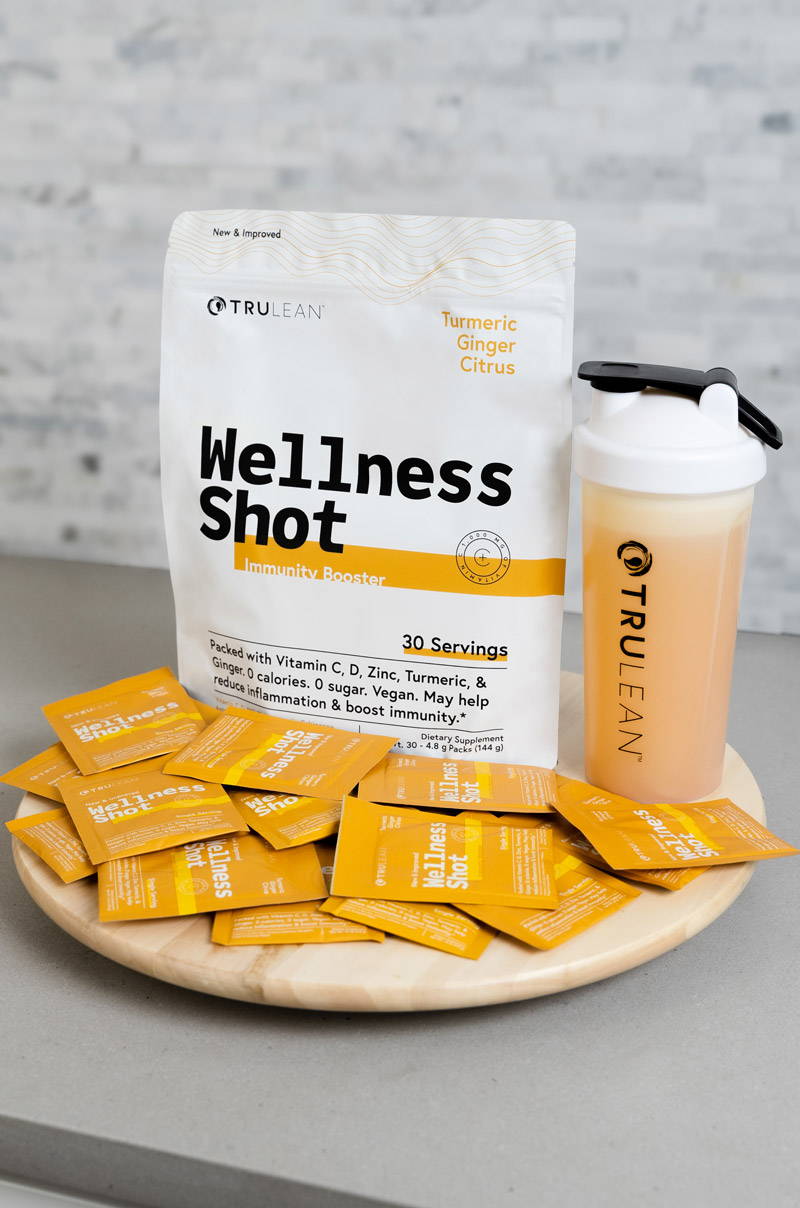 Unlock the secret to faster
fat loss!
Each Optimized Performance Bundle includes: Your choice of high quality 100% grass fed protein or plant based protein that mixes up like a milkshake and is available in 4 amazing dessert flavors!
Our best selling vitamin enhanced Everyday Fit™ that tastes like juice and hydrates better than water with ZERO sugar and specific vitamins and minerals that burn fat, curb appetite and help promote a positive mood.
You'll also get a bottle of our Ageless Super Greens -- a daily scoop made up of 10 organic green leafy superfoods… this great tasting daily greens mix fights inflammation and helps slow the aging process… plus the best part it tastes amazing.
And every Optimized Performance Bundle also includes a 30 day supply of the #1 Immune Boosting Wellness Shot that has 9 super ingredients to supercharge your immune system like real Turmeric, Ginger and Cayenne pepper so you can stay healthy no matter what!
This delicious, grass-fed, 100% Whey Isolate Premium Protein takes just 27 seconds to make and includes 22-24 grams of clean protein from hormone-free cows and is only 100 calories per serving.
22-24 Grams of Protein
0 Sugar
0 Carbs
100-110 Calories
100% Grass-Fed
Vegan Options Available
Ensures that you get adequate hydration on a consistent basis and makes water taste delicious. It also fortifies your body with essential vitamins and minerals for enhanced health and vitality, as well as appetite and craving control, and faster weight loss.
100% Pure Ingredients
0 Sugar
0 Carbs
5 Calories
Vegan Friendly
Replenishes the missing vegetables and leafy greens in your diet to give you a boost in your vitamin and mineral stores to fight aging and promote natural energy.
10 Organic Ingredients
0 Sugar
0 Carbs
0 Calories
Vegan Friendly
Rejuvenate your body with 9 fortifying super ingredients including turmeric root, ginger, zinc, vitamin C and D to get all the vitamins and minerals needed to boost your immune system.
100% Pure Ingredients
0 Sugar
0 Carbs
0 Calories
Vegan Friendly
Drink It. Love it.
See Results.
This is the Trulean Guarantee. If you are not 100% satisfied with your order, we will gladly buy back the bottle, no questions asked.